Amazon.co.jp targets Chinese ecommerce
December 10th, 2016
In June of this year Amazon Japan quietly rolled out a Chinese language version of its online shopping mall, together with new, reduced rates for shipping products to mainland China.
In the process the online retailer is effectively expanding its potential buying population beyond the current core target of Japanese consumers to tap into the vast population of online shoppers in China. 
This is a change that capitalizes on a trend that's been very visible in Japan's cities in recent years.  That of mass Chinese shopper tourism. Its a phenomenon that has recently got its own name… "bakugai" or "explosive buying".
And now bakugai is going online!
The boom in Chinese shoppers in Japan
Walk into a Japanese department store in recent years and in all probability you'd see crowds of visiting shoppers from China eagerly stocking up on consumer goods.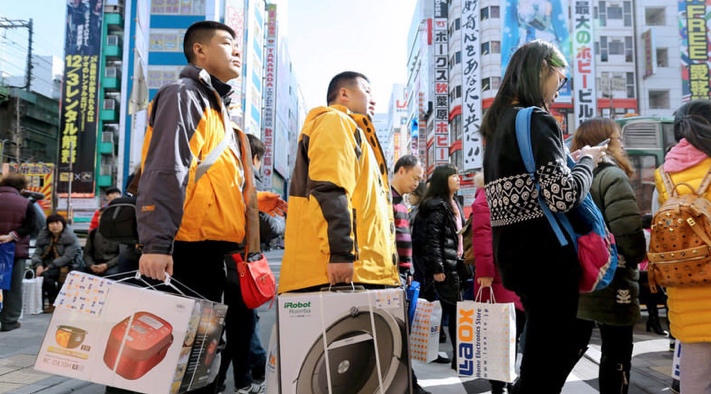 Whether its electronics from Akihabara, cosmetics from Ginza department stores or clothes from Omotesando high-end fashion stores… you name it and Chinese consumers are buying it!
In fact, this is reflected in a staggering rise in the number of mainland Chinese tourists visiting Japan; an increase of over 40% year-on-year during the first part of 2016.
Why do they come?
There are several drivers behind this explosion of Chinese shopper-tourism:
Firstly, that's its possible at all! The easing of visa restrictions, growing Chinese disposable income and a weakening of the yen have all contributed to bakugai. Travel companies have responded, with ANA doubling its flights between Shanghai/Beijing and Tokyo's Haneda airport.
Then there is the perceived quality, authenticity and safety of products purchased in Japan.  The manufacturing standards imposed by Japanese and western brands are high (even if the products are often made back in China!).  And significantly, Chinese shoppers can be totally assured that they are buying genuine items and not counterfeits.
Finally, there is the choice and originality of products.  As Chinese incomes are rising, so their tastes are fragmenting.  Against this background, Japan is a land of exotic, niche products. Young Chinese love the cuteness and innovation often found in the products they discover in Japan.
And increasingly many Chinese shopper tourists want to buy such products online once they've returned home to China.
What do the Chinese like to buy online from overseas?
Data on the product categories that Chinese like to purchase online from overseas is shown below.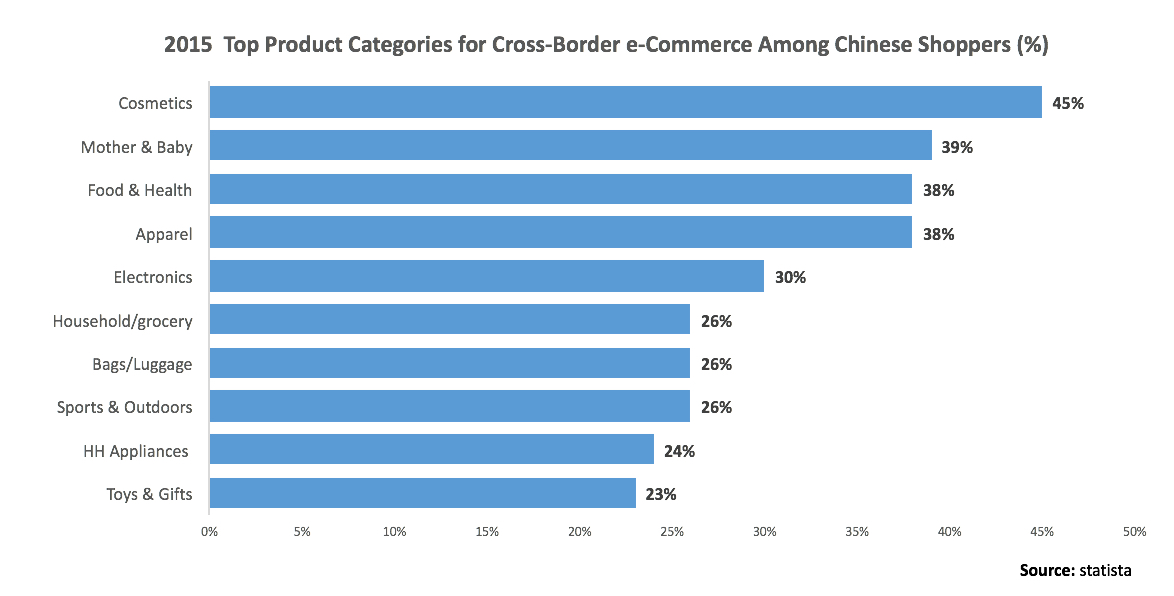 Cosmetics, mother/baby and food/health lead the way.  This points to basic safety concerns on local alternative products in categories where usage involves application to the body or internal consumption.
Next come more design-oriented items, including apparel and electronics..  This suggests future ecommerce opportunities for Japan's specialist fashion sites like ZOZOTOWN.
From bakugai to exploding e-commerce…
The move by Amazon Japan towards China represents the first stages of growth for a major new market in Japan to China ecommerce. 
But Japan's METI (Ministry of Economy, Trade and Industry) is convinced. Its forecast is that ecommerce sales from Japan to China will triple to a massive level of US$22.5 billion by 2019.  The digital silk road could well be running through Japan.
And may be we'll also be needing another new buzz word for it! ...e-bakugai?