Why Japanese website localization is vital for selling online in Japan
November 30th, 2015
New data from PayPal reminds us that Japanese website localization is an essential step for successful ecommerce in Japan.
Japan is one of the most highly educated and technically advanced societies on the planet. But its cultural isolation means its population is only comfortable communicating in Japanese.  
Ninety-nine percent of the Japanese speak Japanese only. A fact is reflected in TOEFL scores.  These rank the Japanese among the weakest countries in Asia for competency in English.
So what does this mean for selling online in Japan?
Many brands sell well online in western markets. And many of these are listed on merchant channels in Japan. But many haven't conducted Japanese website localization.  And a surprisingly high number even use English for titles and product descriptions on Amazon.
This may seem like a minor issue. But effectively it means that these products won't even be considered by the vast majority of Japanese shoppers.
Last week PayPal released their second report on cross-border online commerce.  For companies looking to sell their products online in Japan there's some great news. A huge growth in demand is expected. But there's also a reminder of the most basic barrier to entry.  Language…
The online market for foreign goods in Japan is set to explode
The PayPal survey showed that, among the richer countries, Japan is expected to have the highest growth in cross-border online spend in 2016: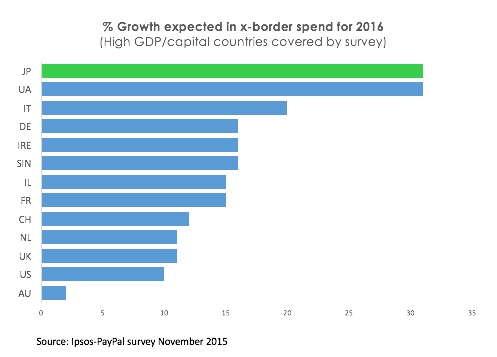 This is great news for western companies seeking to sell their products online in Japan. And an opportunity for those haven't yet considered the option. 
The necessity for Japanese website localization
Japan emerged as the country with the highest concerns on language: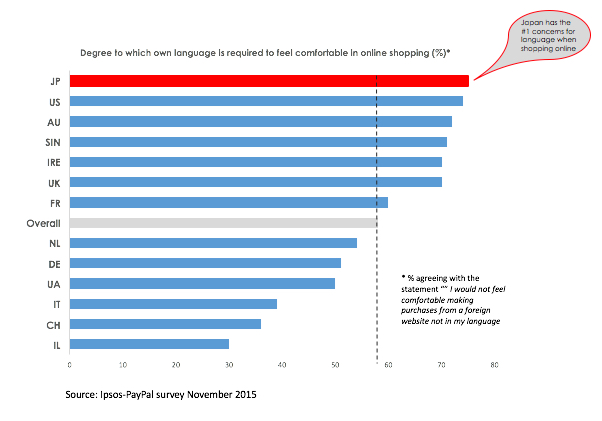 So the Japanese expect to shop online in Japanese to the same extent as Americans expect to shop in English!  … even if some others countries like Germany are more flexible on this point.
This is a fundamental barrier to entry. And the extent to which its not being addressed in the world's #4 ecommerce market is also surprising. 
A review of highest ranking ecommerce brands in the leading Amazon marketplaces of the US, Germany and the UK shows that these many of these products haven't created Japanese webpages. 
Even worse, many haven't even have listed properly on Amazon Japan. Meaning the title of their listings and product descriptions have not been translated into Japanese.  
They therefore take a double hit. First in terms of discoverability The Amazon search engine doesn't see them.  And secondly in conversion.  Consumers' lack of understanding is a barrier when deciding to purchase.
These products are forgoing the success in sales that they enjoy in the US and Europe. And will miss out on the future growth forecast in the PayPal study.
But its important to know that Japanese website localization doesn't need to elaborate to be very successful. 
Here are some great examples of products that have localized websites into Japanese. These products are replicating their success in Japan! And this is seen in high sales ranks and reviews:  
Note how all of these sites retain a little English language. This serves for image purposes, but also makes localization easier.  But all the detailed text is translated into Japanese.
This is a very exciting time to be selling your products in Japan.  The market is huge and switching to online at a rapid rate.
But success will require some Japanese website localization. And quality translation of your product listings,  Both of these are areas where eBiz Japan can provide support.