Japanese social media: the upward march of LINE
April 26th, 2016
The "LINE Conference Tokyo 2016" was held in Chiba prefecture last month. This was the occasion for the company to announce its latest plans.  And for the audience to take stock of LINE's unique position among Japanese social media.
LINE announced plans develop itself from being the world's #1 mobile messenger into the world's #1 "Smart Portal". LINE will aim to shift its focus from connecting 'people to people' towards accessing various information sources, services and products.
The story so far…
If you don't already know, LINE is already the most widely used platform in the Japanese social media scene.  The most recent data from Nielsen Japan (Dec 2015) shows that LINE's monthly user-ship base is ahead of both Facebook and Twitter. And it's growing at a faster rate: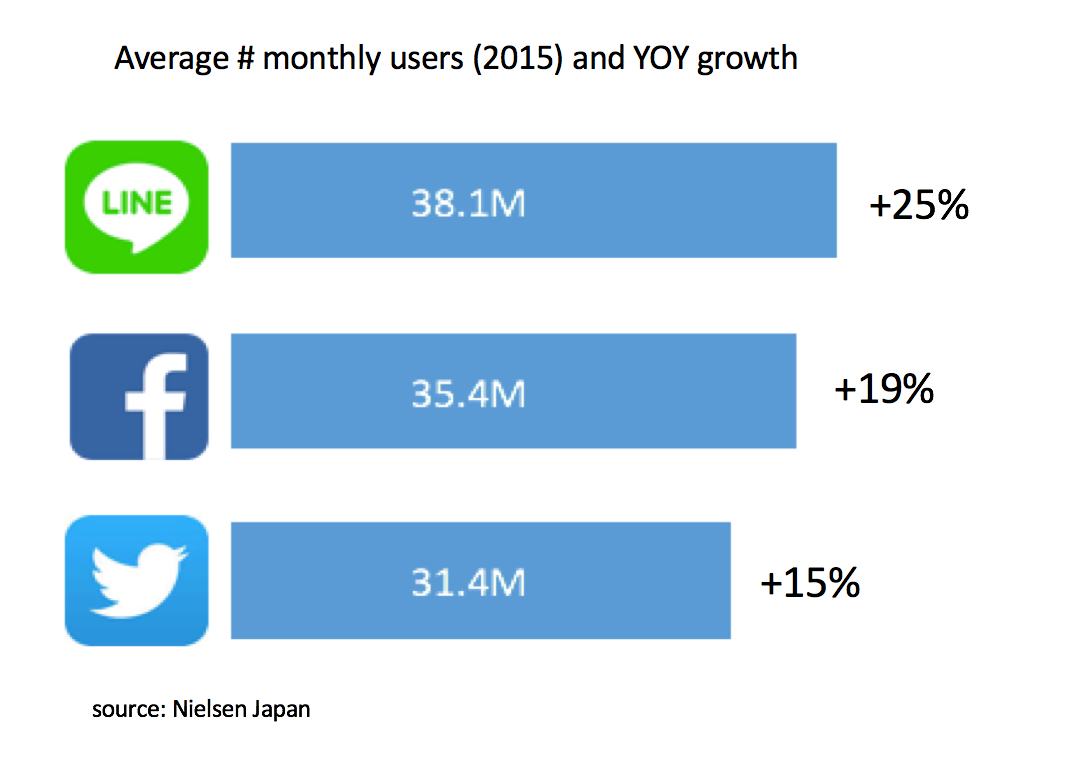 At its core LINE, is a free Instant Messenger app.  It was launched in 2011 after the Tohoku earthquake. The name LINE refers to the lines that formed at public phones as people sought to contact relatives.  While the phone networks were overwhelmed, the Internet held up relatively well. This led the founders to see an opportunity for a new social media app. One offering free messaging using text, voice, photos and video to individuals and groups.
Beyond this basic offer, the big driver of LINE's popularity has been the use of stickers. These allow its users to express emotions in very specific ways.  The stickers exude the Japanese sense of 'kawaii' or cuteness. Especially when based on loveable characters…
Japanese social media is winning fans one smile at a time…
In the 5 years since its launch, LINE has seen phenomenal growth. This has been mainly across Asia, but increasing now LINE is growing in other regions.
Here are a few global numbers to demonstrate: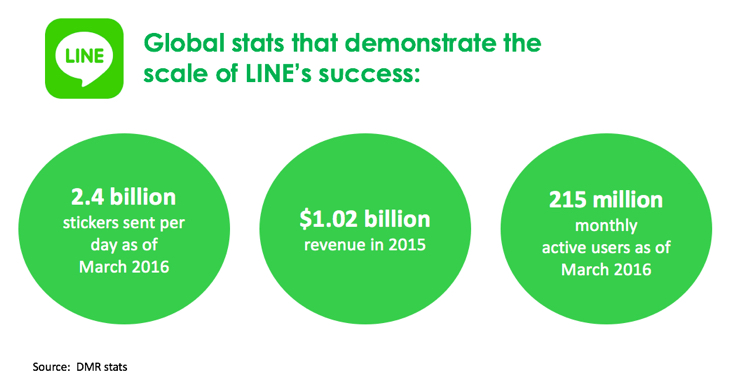 LINE already has 25 million users in the US and this is expected to grow.
Other important sources of revenue for the company have been game downloads and character merchandize.
Driving traffic to ecommerce sites
Increasingly, LINE in monetizing the popularity of the core app into marketing revenues. There are many ways that companies can use it, both to boost the appeal of their brands and grow online sales in Japan. 
Here are some examples:
Time Line Ads:  This started in December 2015.  For ¥5million advertisers can expect 2 million impressions and 600,000 clicks. Two-thirds of the timeline users are aged 18-34yrs. As such this is a great way to reach the youth audience.
LINE Business Connect: Previously, LINE's offer for businesses was focused on one-way mass delivery systems.  This is now shifting.  Going forward advertising or indeed conversations can be changed according to the user.
"LINE Business Connect" for instance allows users to use text messages to order pizzas or schedule parcel deliveries.  And this user specific dialogue feature has great potential when linked to commerce. It makes the online shopping process, from conversation to completion, even more convenient on smartphones. The majority of transactions in Japan are conducted on such mobile devices.
LINE Live: This is the video broadcasting leg of LINE.  It started operating in December 2015.  Viewers can watch content for free. Commercials will be placed at the start and end of programs. Typically, this will allow advertisers to run campaigns both on TV and on smartphones. And with a very high degree of targeting in the later case.
Connecting up the dots 
For brands looking to use Japanese social media to drive online sales, LINE needs be considered. 
This is not only due to LINE's reach with its #1 user base. But also because LINE combines smartphone platform, so important in Japan, with the ability to target shoppers with relevant messages.
The future is mobile integration.  Mobile smart advertising with online mobile shopping. Expect to hear more in coming months.