Mobile e commerce in Japan: shopping malls in your pocket
May 25th, 2016
An important feature of e commerce in Japan is the extensive use of mobile devices for online shopping. 
In fact, from Q1 2015 for the first time the majority of online transactions in Japan were completed on mobile devices and not on computers.  Only South Korea shows a comparable level of consumer behaviour: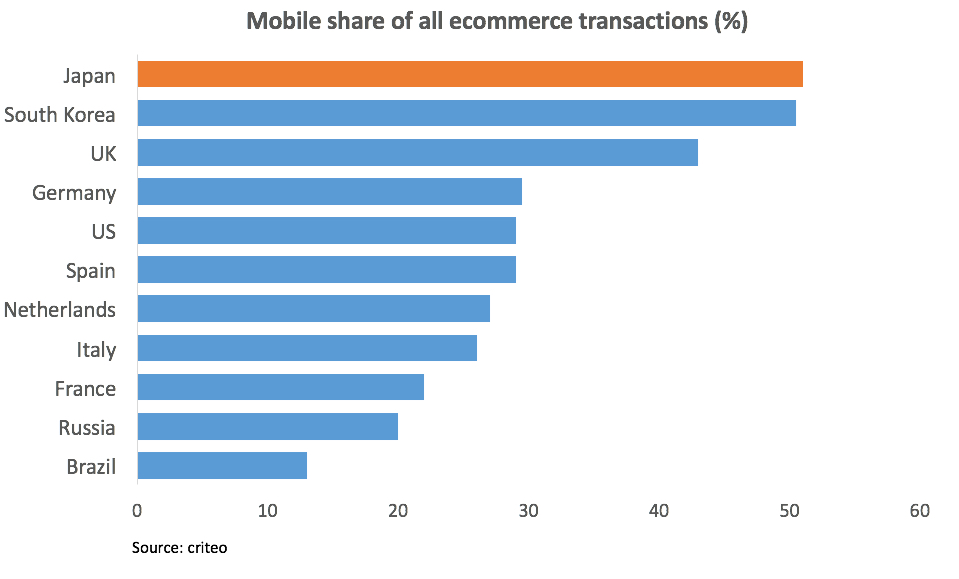 What are the drivers of mobile e commerce in Japan?
To answer this question, its informative to compare the purchase conversion funnels between of the Japan and the US: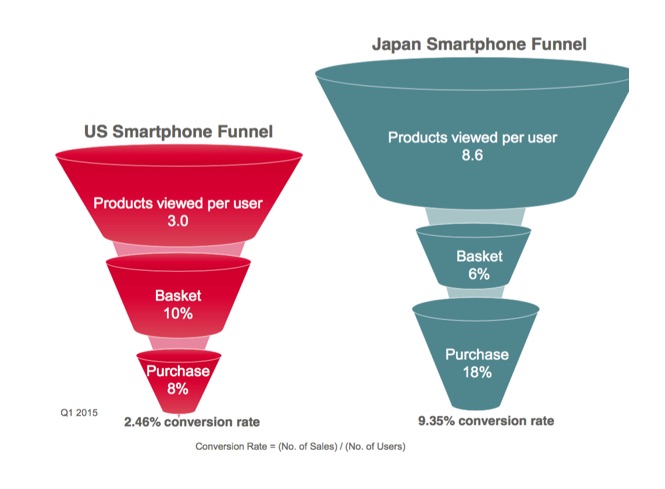 First, mobile shoppers in Japan view three times as many products on their smartphones than do their counterparts in the US.  This suggests the mobile platform is offering a much more engaging browsing experience for the Japanese. Mobile apps like Mercari have become phenomenally successful in Japan. In part due to their advanced usability. 
Secondly, we see that purchase completion in Japan is more than twice the level of that seen in the US.  This suggests weaknesses with mobile payment systems in the US. Problems that have already been addressed in Japan.
Taking the multiplicative effect these factors, the overall the purchase conversation rate (sales divided by users) in Japan is four times that seen in the US.
The past year has seen mobile ecommerce in Japan continue to grow strongly. 
This is reflected in data showing the increased traffic to mobile sites of the two leading ecommerce platforms: Rakuten and Amazon.co.jp: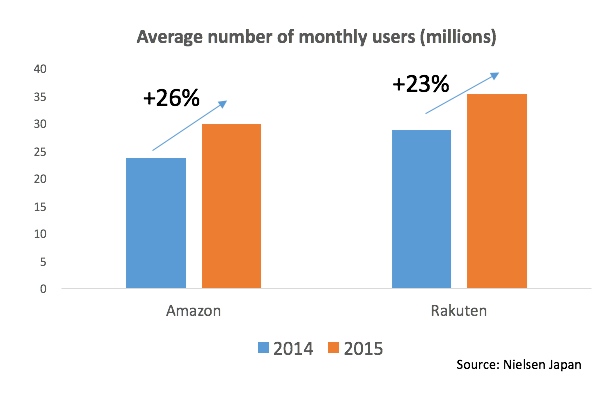 In contrast, the traditional websites of Rakuten (-8%) and Amazon.co.jp (-4%) have both seen decreases in traffic.
The +26% growth for Amazon.co.jp actually made it the second fastest growing mobile site in Japan, after YouTube. 
Its exciting stuff…
In 2001 Steve Jobs famously launched the original iPod with the offer of "1,000 songs in your pocket".  Today mobile e commerce in Japan is leading to us into world where we have shopping malls in our pockets. No doubt he would have loved it!